The other day I had a very interesting conversation with an entrepreneur who is about to launch what is essentially a lead generation business in a nascent but well defined vertical (which will remain unnamed for now).  We were talking about his revenue model, which is still very much in the works, and also some initial thoughts on how to price his leads which I thought would be interesting to share.
For the uninitiated, lead generation businesses develop potential sources of new business and sell these sources to companies interested in reaching these sources of business.  An easily understood example is that of financial planning lead generation.  There are many websites that capture data on people looking for advice on Annuities, ETFs, etc.  The companies that capture this data then sell it to financial planners as qualified leads.  The process looks a little something like this:

These leads then find their way into the sales funnel of the buyer of the leads. Below is an example of what a typical sales funnel for a financial planner may look like (the leads that we would collect as a third party lead generator would fit in somewhere between leads and appointments, more on that later):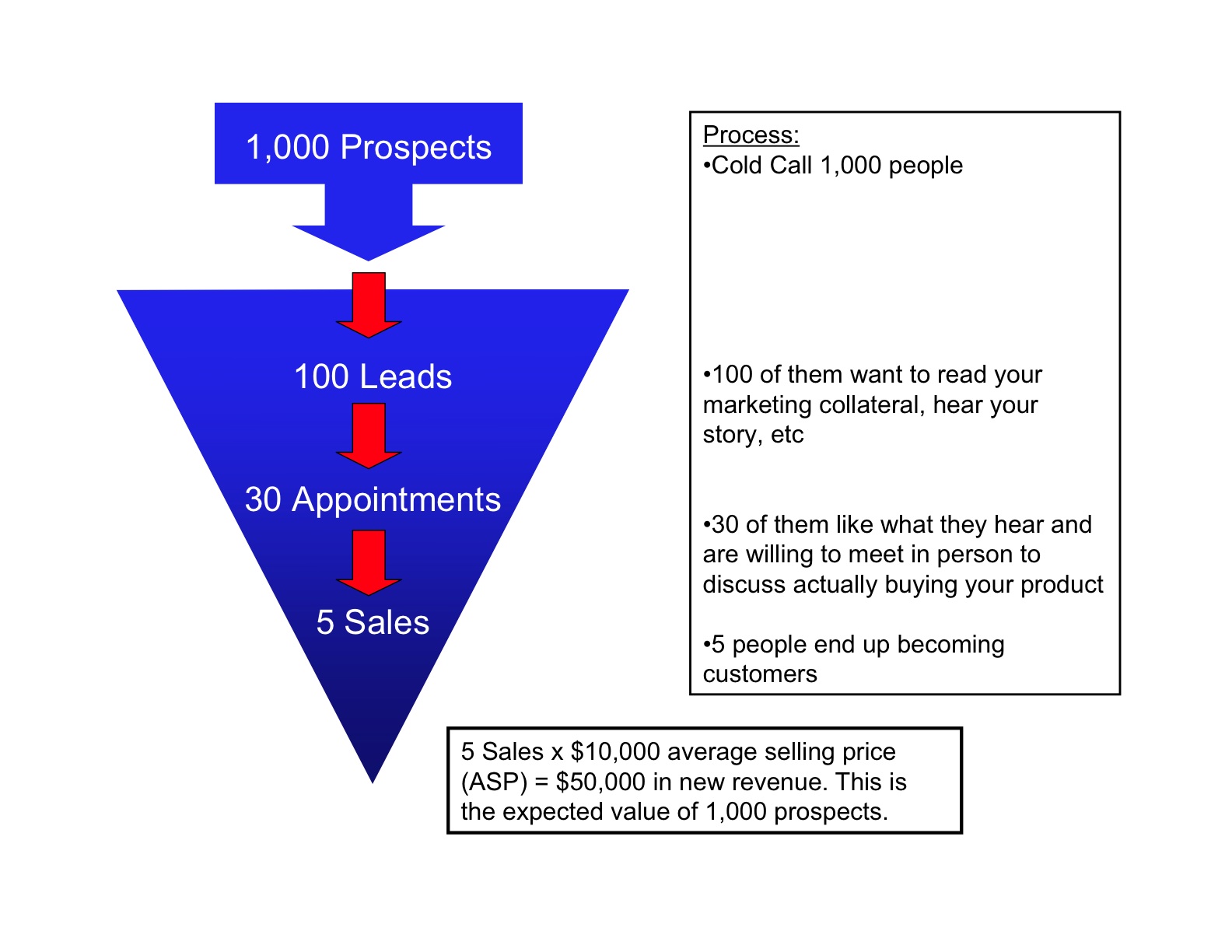 If you're providing leads into this funnel as a third party, it's important to track the efficacy of your specific leads throughout this funnel.  In fact, many lead generation companies do not get paid per lead, but rather based on the number of appointments their leads can generate which is a proxy for how well qualified the leads are.
Now, about the actual pricing of the solution.  I'd like to shift away from financial services for the time being as that market is fairly well defined.  The competition you'd face within financial services is other lead generation companies (as this is a mature market as far as lead gen goes) and therefore the price is set at the market rate unless you can offer a differentiated product.
Shifting towards my entrepreneur friend's nascent market – there are no other lead gen businesses, nor is there any outsourced sales organizations servicing this vertical.  Therefore, the focus is on competing with internal sales forces.  Understanding the compensation structure was the most important take away that I could offer.  Most internal sales reps, especially those selling big ticket items, are paid a minimal base salary and large performance based bonuses.  The key is to figure out where your leads fit into their sales pipeline, and then figure out the expected value of that lead to the company, as well as the expected cost associated with that lead if it were brought in through the internal sales team through telesales, direct mail, etc.  As this post is getting a bit long and Lost is on tonight, I'll leave walking through an example with some numbers until part 2.